The Fall Lineup: Hearty and Complex
Posted on October 1, 2018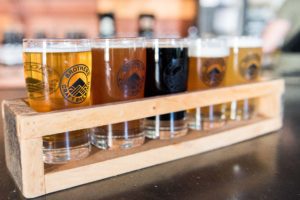 There's no resisting autumn in the Shenandoah Valley. Whether you spent your day hiking and leaf peeping along the Appalachian Trail or munching apple cider donuts while solving a corn maze, you're sure to be thirsty. Taste for yourself how Beerwerks Trail breweries are transitioning from the crisp, light tastes of summer into the hearty and complex flavors of fall.
Here are some of our breweries' tastiest seasonal offerings.
Brothers Craft Brewing
/ Harrisonburg
Brothers Craft Brewing will hold its first Oktoberfest celebration on October 6. Dress in your dirndl & lederhosen and party down with German beer, food from Union Station Restaurant & Bar, music from Valley Brass Quintet, and games like skat and bier barrel roll. Oans, zwoa, drei, g'suffa!
Fest Bier:

This beer is a traditional German Marzen which, as a slightly darker, heartier lager, is perfect for the changing seasons.

Available now

.

Blonde Betty:

 Bold Rock provided fresh cider to be used in this Imperial Blonde Ale, and added spices create an apple pie-effect.  Come to the

Valley Pike Farmers Market

on October 11 for a tap takeover event featuring this limited collab brew.

Late September or early October

.

Virginia Dark:

 Brothers is bringing back its Black IPA as a taproom one-off this October.  This beer is a nice transitional brew from the IPAs of summer to the Porters/Stouts of fall/winter.

October

.
Seven Arrows Brewing
/ Augusta County

A star of Seven Arrows Brewing's seasonal beer lineup this fall is Fallen Timbers Oktoberfest, which is brewed with Pilsner, Munich, Vienna, several specialty malts and German noble hops. This beer offers a distinct malt complexity with toasted, biscuit notes and a well-balanced bitterness. Stop in to taste this and the rest of the autumnal releases.
Fallen Timbers Oktoberfest:

 The Oktoberfest is brewed with Pilsner, Munich, Vienna, several specialty malts, and German noble hops. This beer offers a distinct malt complexity with toasted, biscuit notes, and a well-balanced bitterness. When poured, the beer is a beautiful amber color with a creamy off-white head.

Available now.

Bust A Coal: Our Apple Rauchbier is a new take on a fall beer.  Brewed using beechwood smoked and crystal malts, the beer imparts a slight smoky flavor with hints of caramel.  The malt profile is balanced using 30% cider from the Pacific Northwest, the beer offers an amazing aroma of fresh apples.  The overall impression is a lager beer that is dry on the palate yet crisp and refreshing and bursting with apple flavors and aroma.
Sundog Milk Stout:

This milk stout builds a tight, thick head like whipped cream. The aroma is of chocolate, with hints of coffee. The fluffy head coats your upper lip and its creaminess entices your palate. Initially roasty, mocha flavors rise, with a slight hop and roast bitterness in the finish.

First week of November

.

Sour CranApple Lager:

 

2nd week of November

.
Great Valley Farm Brewery
/ Natural Bridge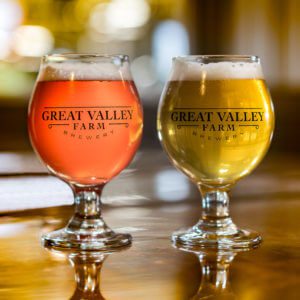 To mark the occasion of two successful years, Great Valley Farm Brewery will celebrate its second year with a release of the aptly named 2nd Anniversary Ale, which will be a Belgian-style Quadrupel. Come celebrate this fine brewery at their anniversary party on October 20.
2nd Anniversary Ale:

 

October 20.
Redbeard Brewing
/ Staunton
Redbeard Brewing regularly serves 12-16 beers a month and their 2018 seasonal offerings include a sweet potato-forward Sweet Potato Pie Porter that packs in 30% more pie filling (but less spice) than last year's! Join the Redbeard crew to celebrate the release of the 2018 vintage of the acclaimed barrel-aged stout, Moriarty, on October 8 at noon.
Sweet Potato Pie Porter:

Available now.

2018 Moriarty:

October 8

.

W.L. Weller Bourbon Barrel Aged, Buffalo Trace Distilling.

Rye Whiskey Barrel Aged (Pikesville or Rittenhouse), Heaven Hill Distilling.

W.L. Weller Aged w/ Coffee. The Weller aged, further aged on whole coffee beans.
Friendly Fermenter
/ Harrisonburg
The Friendly Fermenter just turned one! Make plans to sample the special beer brewed just for the occasion.
Maple Bourbon Brehfuss:

 Bourbon Maple Syrup Barrel aged blonde coffee stout.

Coconut Brehfuss:

 Blonde Coffee Stout on toasted Coconut.
Other seasonal beers at the Friendly Fermenter this fall include:
Almond Brothers:

 Toast Almond Nut Brown Ale.

Freshy Fresh:

 VA Fresh Hopped Ale.

Without a Doubt:

 Black IPA. This is a homebrewer/Pale Fire colab for the

Beans and Brews Festival

on September 29.

Bock of Eli:

 Dunkles Bock.

Great Big Bear Hug:

 BBA Imperial Stout.

Cherry Symbiosis:

 Cherry Sour.

Bittenbender:

 Our "house" American Brown Ale.

Zombie Kisses:

 Citra/Azacca IPA will come out around Halloween.
Stable Craft Brewing
/ Augusta County

Celebrate the crisp autumn weather with these fall releases at Stable Craft Brewing. In addition to these set releases, Stable Craft will be working on bringing new unique, one-off, small-batch release beers to the tasting room.
Fumpkin Ale:

 Look for a nice amber color with a beautiful white frothy head on the pour with hints of caramel, crust, and spice on the nose. It's like drinking pumpkin pie!

Available now

.

Festbier Lager:

 A delicious example of the Marzen style, you will find our Festbier slightly sweet and bready with a hint of the yeast on the nose. A beautiful orange color, look for notes of sweeter bread in the taste with a lighter body.

Available now

.

Munich Dunkel Lager:

Our Munich Dunkel is smooth, rich, and complex but not overly thick or heavy in body. Look for a deep amber hue with hints of caramel, bread, and German lager yeast on the nose, and caramel, bread, and slight roast notes with a very clean finish in the taste.

Available now

.

Stable Craft Whiskey Sour:

 

October 6

.  

Winter Warmer with gingerbread spice:

November 17

.
Pale Fire Brewing Company
/ Harrisonburg
With its cozy tap room complete with fireplace, outdoor patio, and collection of vinyl waiting to spin, Pale Fire Brewing Company provides a perfect setting to enjoy a seasonal beer menu this fall, which includes late September and early October returns of the following beers.
Ocean Song:

 Gose.

Razor's Edge:

 A rye pale ale in which two-row barley supports a vivid rye character, while Columbus hops finish clean, thanks to piney Centennial and Warrior bittering hops.

Lucille:

 An oatmeal stout brewed with heaps of oat flakes for a full-bodied, silky-smooth mouthfeel and rich malty flavor.
Devils Backbone Outpost Tap Room & Kitchen
/ Lexington
Devils Backbone Brewing Company turns 10 this November, and they're marking the occasion with a special draft-only release of Milestone 10 at both the outpost and basecamp locations. This beer's style will be announced soon. The 10 Year Anniversary Pack features favorite throwback beers selected by fans.
O'Fest:

A lager inspired by traditional Oktoberfest bier, O'fest is reddish amber in color, medium in body, with rich malty notes of caramel and toasted dark bread. (six pack bottles and on draft)

August – November..

Stories from the Trail Collab Pack:

(mixed 12-pack and on draft)

September.

Tres Cray IPA:

 Tres Cray is a hoppy collaborative IPA in which three Devils Backbone brewers each pick a favorite hop to go into the boil kettle and another hop each for dry hopping. Built on a base of Pilsner, Vienna, and Maris Otter Pale malts, Tres Cray shifts in character with the different hops used each brew.(draft only)

September.

Cocoa Bear:

 Midnight black, full-bodied, with dark chocolate flavors coming from the marriage of imported cocoa and roasted & caramelized malts. Six types of malts and two types of cocoa nibs go into this chocolate lovers beer. (draft only)

October.

10 Year Anniversary Pack:

  (mixed 12 pack and on draft)

November.

Danzig:  A Baltic-style porter that blends a strong English porter with a Germanic lager approach. This fairly robust, strong black lager has notes of chocolate and coffee with hints of caramelized sugar(six pack bottles and on draft) November – February.