48 Hour Beercation on the Shenandoah Beerwerks Trail
Posted on August 2, 2018
The Shenandoah Beerwerks Trail is packed with months' worth of adventure thanks to our location in the Shenandoah Valley (1.5 hours from DC or Richmond, 3 hours from Hampton Roads,) but two days will let you experience some of the best we have to offer. Boutique hotels and rustic farm lodging, craveable food, rockin' music and outdoor adventure fill out your beercation. Here's our 48-hour guide in nine steps.
FRIDAY:
Step 1: Check into Your Hotel
From fancy boutique hotels to rustic farm experiences, towns along the Beerwerks Trail boast many great places to stay. These home bases will serve you well as you explore everything the Valley has to offer.
Staunton's Historic Hotels
Waynesboro's Romantic B&B's
Augusta County's Rustic Farm Lodging
Lexington/Rockbridge Lodging
Harrisonburg's Overnight Elegance
Step 2: Pick up Your Beerwerks Passport

Toast your weekend with a cold one and earn a cool t-shirt while you're doing it. Get your Beerwerks Passport at participating breweries and the following visitor centers:
Step 3: Get Some Grub

The diverse restaurant scene along the Beerwerks Trail celebrates craft food and emphasizes farm-to-table freshness. If you're visiting a brewery, make sure to take time to explore nearby restaurants, too.
SATURDAY
Step 4: Fuel up for Your Day

You have a busy day ahead of you. Recharge at a local coffee spot and visit a nearby farmers' market for some caffeine and food.
Step 5: Head Outdoors
It's time to take a hike and see what all the Shenandoah Valley fuss is about. Get outside and breathe in the fresh air. Pair your adventure with a post-hike beer at a nearby brewery.
Step 6: Explore Our Unique Downtowns
Staunton

Perhaps best known for its Victorian architecture, the American Shakespeare Center and its proximity to beautiful natural areas, Staunton also has a vibrant downtown with an active arts and music scene. In addition to dining choices that are reminiscent of a larger city and a variety of independent shops, Staunton's central location also makes it an ideal jumping-off point to explore the rest of the Valley.
Harrisonburg

There's so much to do in "The Friendly City!" Harrisonburg's walkable 40-block downtown is rich in unique restaurants, cutting-edge arts and culture, shopping, history and college-town cool. Plan to visit some of its fine museums and parks. Harrisonburg is proud to be the first recognized Arts and Cultural and Culinary District in Virginia. Outdoor enthusiasts can easily access Shenandoah National Park or the Washington and Jefferson National Forest.
Lexington

Lexington is steeped in history, and with two colleges located in town, there's always something happening. The charming downtown offers many of fine restaurants, galleries and shops, and its location deep in the beautiful Shenandoah Valley makes it easy for visitors to access the surrounding natural wonders.
Waynesboro

Waynesboro is divinely placed to be your gateway to outdoor adventure. Nature fans can enjoy hiking the Appalachian Trail, driving the Skyline Drive or the Blue Ridge Parkway, or exploring a wealth of in-town parks and green spaces. History buffs can learn about historical figures like Mad Anthony Wayne and locations like the Crozet railroad tunnel. In addition, Waynesboro's growing cultural scene includes regular festivals like the Fall Foliage Art Show, Virginia Street Arts Festival, and Virginia Chili Blues n' Brews, making it a can't-miss place to visit.
Step 7: See a Show at a Brewery Serving up Live Music on Saturday Night 

Several breweries along the Beerwerks Trail often host live music on Saturday nights. Check their schedules for a chance to drink your favorite brew and enjoy some tunes.
Lexington & Natural Bridge
SUNDAY
Step 8: Enjoy a Little Brunch
Sleep in, rise late, and then start the day right with a relaxing brunch. Here are some sure bets in each area.
Step 9: Hit up a Brewery for a Final Farewell

Before you say "happy trails," make sure you stop at one more brewery to
Fill up your growler to go
Plan your next trip to the Valley to complete your Passport
And Lastly, Start Planning Your Beercation!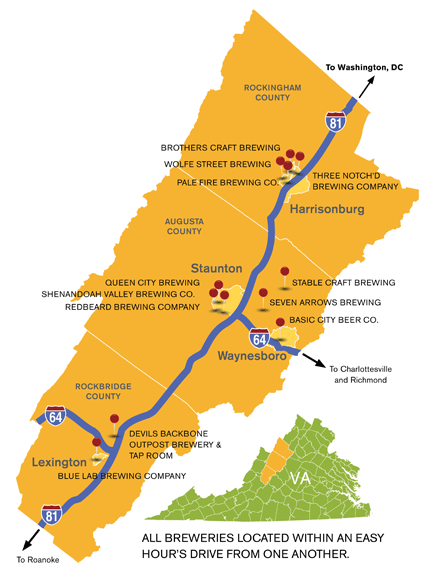 More Getaway Ideas: